Above Photo: Leather Leone prepares for the Summer of Metal!
Leather Leone is back in full force, with a drive and aggression not seen in metal since the 80s! With a myriad of new material and band a brand new live show, the metal world will never be the fn same! So much information to report that it will have to come in like a flowing stream of water! Watch this space for future updates of specific tour dates, and video release dates. Currently there are two versions of the new Chastain CD 'Surrender to No One' available the original and the UNCUT version, which is explained on Chastain's Official Page @
http://www.leviathanrecords.com/chastain14.htm
Official Press Release for Chastain Uncut!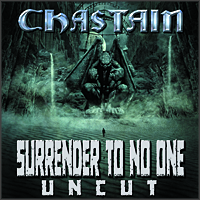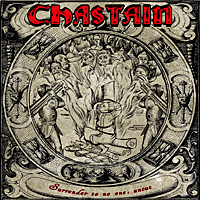 The original Uncut version of CHASTAIN's Surrender To No One!!
CHASTAIN's "Surrender To No One" marks the return of original vocalist Leather Leone. Long considered one of the originators of the female power metal vocal style, Leather proves on the new CD she hasn't lost anything from her glory days. Leather was the vocalist on the classic CHASTAIN albums: Mystery of Illusion, Ruler of the Wasteland, The 7th of Never, The Voice of the Cult, For Those Who Dare

Guitarist David T. Chastain explains the "Uncut" version: "As a producer and record company owner it is my job to put together a Cd with the best chance of commercial success. However as a musician/songwriter I want to hear the music as it was written and recorded. Therefore "Uncut" is the original version of the Cd before the Producer (DTC) got hold of it! Actually both versions have their good points. More guitar solos are on this version as well as two of the songs are drastically different. Plus I usually edit out things that 99% of the listeners would never notice such as guitar string noise, amp hum, and other things that drive me crazy. We will leave it to the fans to tell us which they like best!"

The digital download version of UNCUT will be on Leviathan Records Worldwide. Hellion Records will release UNCUT on CD format in Europe and South America.

For more info go to www.ChastainUncut.com
Worldwide Digital Distribution www.LeviathanRecords.com
European CD Distribution www.HellionRecords.de
South American CD Distribution www.HellionRecords.com
Original version of the CD www.ChastainMetal.com
Or Email: promotions(at)leviatharecords.com
Check out Chastain's brand new March 2014 video 'Evil Awaits Us' @
http://www.youtube.com/watch?v=KdK3YD6pPjw
I first listened to Chastain in the 80s and finally had the chance to meet Chastain and Leather in 1990, although Leather was out of the music scene for nearly two decades, it is like she never left, a seething energy and force that cannot be stopped. Dio's death may have inspired her to continue, but the spirit energy was within her at all times! I was the first on Earth to review Chastain's newest release @
http://dansmoviereport.blogspot.com/2013/11/chastain-surrender-to-no-one-cd-review.html
And when Leather wanted to return to the music, I interviewed her even before she rejoined Chastain @
http://dansmusicreport.blogspot.com/2011/08/exclusive-interview-leather-leone-back.html
Needless to say, you will get all of the Leather news that is fit to print and some that is to wild to even mention haha! Soooooooooooooooooooooooooooo....
Keep reading Dan's Movie Report throughout 2014 and beyond for exclusives, interviews, photos giveaways, etc! Time for "The Voice" to Return!